dogface
Jul 21, 2008 4:23:50 GMT -5
Post by zeros2040 on Jul 21, 2008 4:23:50 GMT -5
Hey guys! I'm back!

Anyway...that's another thread....lol.
So dogface....Many of you already know about my stories from there. Welll...I've been back there a few times since then. Even once during the day.
We didn't really have anything happen to us when we went back...but then again we didn't stay very long either.
I do have a few tips for if you guys are going to head out there.
-BE CAREFUL! The bridge has more holes in it (The small gap that was before the big gap is getting bigger, and more wooden beams are becoming visible)...and the 3ft gap is slowly getting bigger. there's a lot more rust on the beams then I remember so just keep in mind when you cross to watch your step. Also there is a new beam in front of the bridge to stop people from crossing the bridge and there is a new hole on the path as you walk up to the bridge (It's not a big deal as you can walk aroun it, but just be sure you don't trip over it. Cause you don't want to break something out there.)
-It's not tresspassing. We went out there one night and were stopped by the police. What happened was they were coming to bust up a party that was going on down there, and they stopped us to ask us if we were going to the party. We said no that we were just going to check the place out because we had heard it was haunted. We asked the officer if it was illegal and he told us no, because no one owns the land...it belongs to the county. He did warn us though, that kids go down there to drink and get high, so to just be careful and that they might patrol down there looking for party goers. My advice would be to have someone stay at the car, while others go into the woods...that way if the police do come there is someone there to explain to them what's going on.
-Bring bug spray! If you go there during the summer you will need to eaither dress in a bee suit or bring lots of bug spray. The mosquitos (SP?) are TERRIBLE out there. Also there are probably ticks in the woods and all kinds of other unfriendlies so so a good spray would be advised. We didn't think about it and when we went duing the day we only stayed for 20 or so minutes because the bugs were so bad.
-The path his super overgrown in the summer...Here's a picture of what you will be walking into: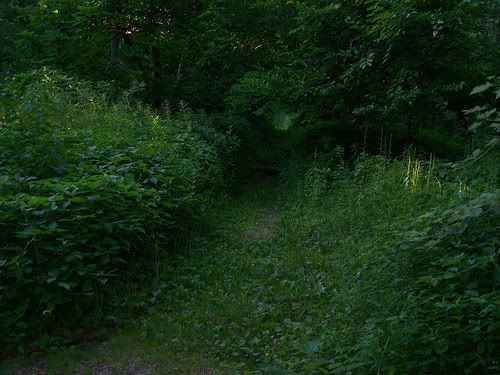 All in all..if you are a first timer out here I would highly suggest a day trip first so you can get the feeling of the place and get your bearing in the woods...because, if I remember right, There are 3 smaller trails as you get on the main trail that lead you into the woods. I don't know where they go (Other then where the trail curves at the end and leads you to the death cabin or to the second bridge).
Also! We have tried to get to the second bridge from the other side. It is possible, but unless you've got a car you don't care about or a 4x4 you'll have to walk. We were going to travel down it, but my friend didn't feel safe about leaving her car there, and it's a good 15 minute walk to the second bridge from the first bridge so we didn't know what to expect and she didn't want to drive her car down the road (Because it was pothole and gravel city) or leave it, so we have not gone yet.